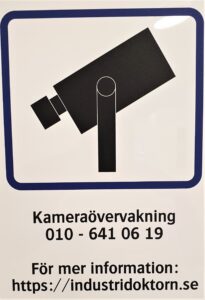 The Industridoktorn premises at Kaveldunsvägen 6 are monitored by several surveillance cameras. These are used to watch experiments around the clock, but it also means that persons entering the laboratory and come into view by the cameras will be filmed. We follow the law of surveillance, see more info below.
https://www.imy.se/verksamhet/kamerabevakning/kamerabevakningslagen/
If you have questions, contact Niklas Strömberg at Industridoktorn (+46-10 641 06 19) or via info@industridoktorn.se.